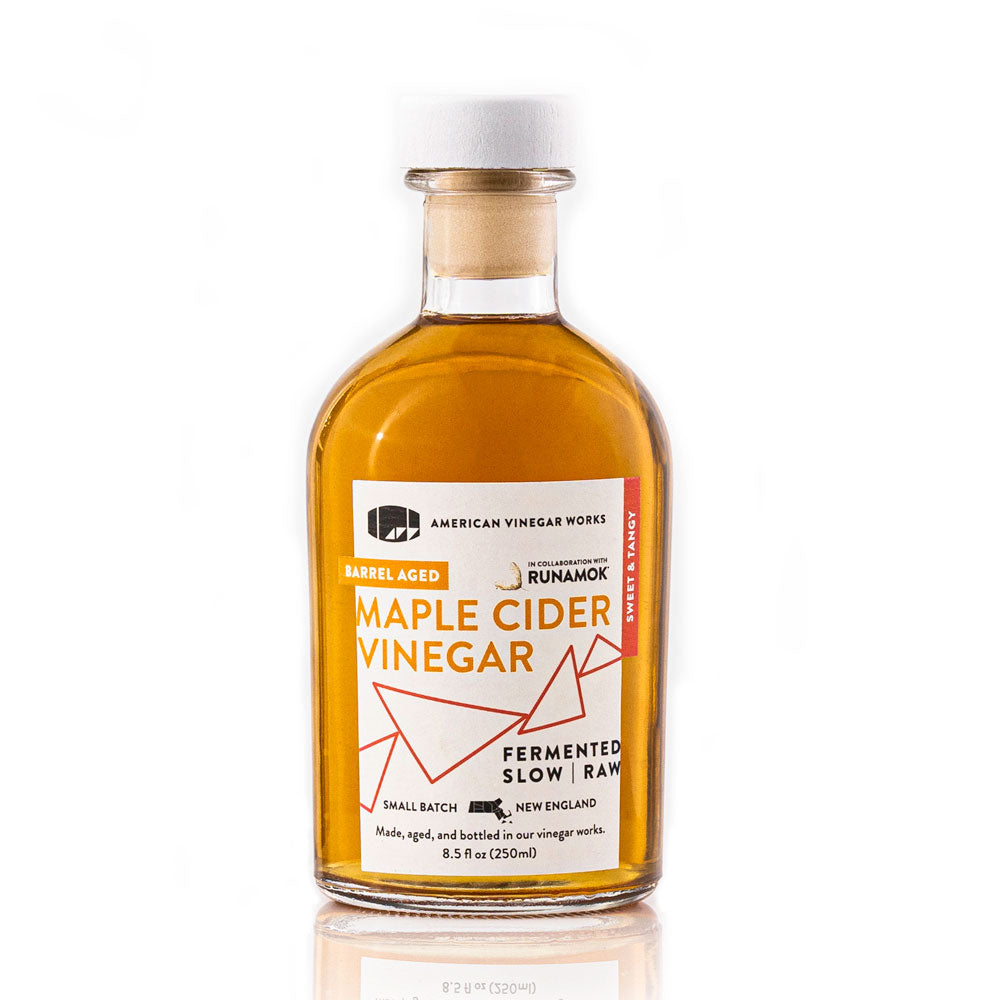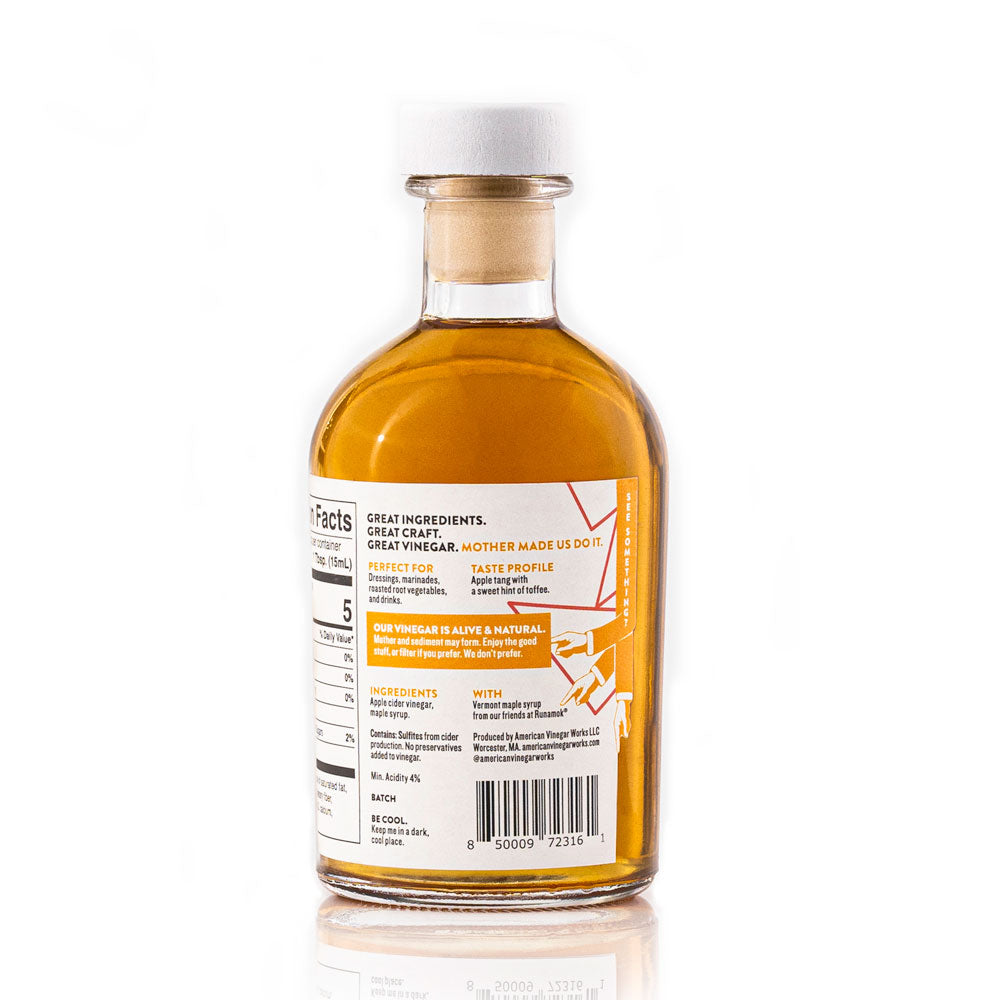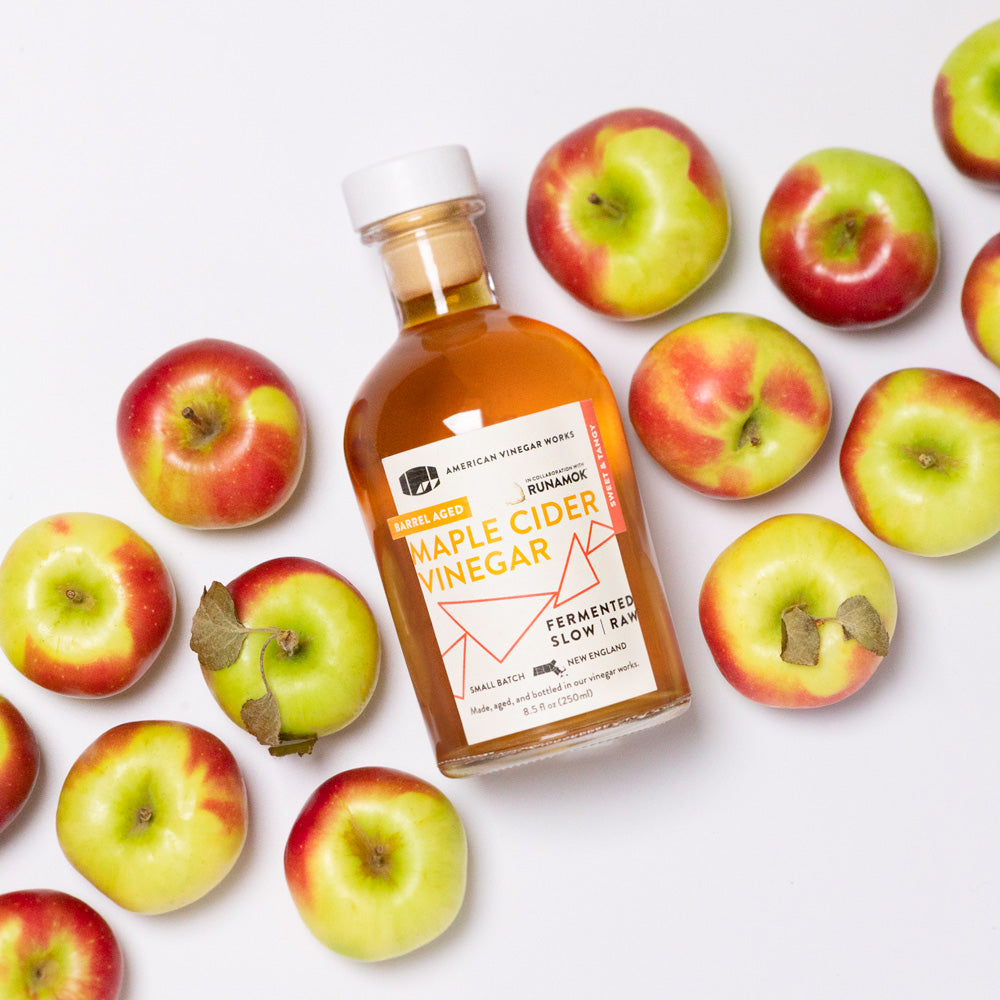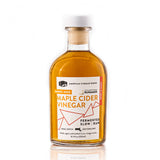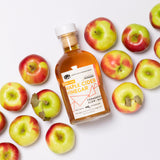 ---
Made with apple cider from northern Massachusetts and organic Vermont maple syrup from our friends at Runamok this vinegar perfectly balances sour and sweet to produce a beautifully toffeed ACV.
A little bit of fall in New England captured in a bottle. This unfiltered and raw apple cider vinegar is anything but ordinary.

---
---
Free shipping on orders over $75 to the same address in the contiguous US.
Raves & Reviews
"VINEGARS WITH A SENSE OF PLACE"

-

"THE MOST SURPRISING AND DELIGHTFUL VINEGARS I'VE EVER TRIED"

-
---
Tell Me More
Size
250ml glass bottle
Perfect For
Dressings, marinades, warm grain salads, roasted root vegetables, and drinks.
Fermentation Base
Apple Cider
Base Origin
Massachusetts
Taste Profile
Tangy with a hint of candied apple and toffee sweetness. 
Production Process
Slow fermented and finished with dark organic Vermont maple syrup. Aged in a vintage oak foeder previously used for fine Cognac before being hand-bottled. 
Minimum Acidity
4%
Great Taste
With excellent taste results, so far I've used this for salad dressings, tahini dressing and homemade non-mayo coleslaw.
Great for Salad Dressing
Nice for homemade salad dressing. Also good in a shrub drink mix. Would buy again.
Best vinegarette for salads
It is wonderful in salad dressings. I always added a little maple syrup to the vinegarettes, and this is just perfect. I will try the others soon.
Pepper sauce project
I made a Carolina pepper sauce with this one. It turned out amazing. I simmered it with garlic cayenne black pepper a spoonful of tomato paste and paprika. The. Reduced the volume by one quarter
I copied the recipe using braggs.
The difference was astounding. The complexity of flavor and duration of that taste was amazing compared to the braggs which was good but fell flat very quick.
Delicioso
What can I say. The maple cider vinegar is very good. I am tempted to put the bottle to my lips.