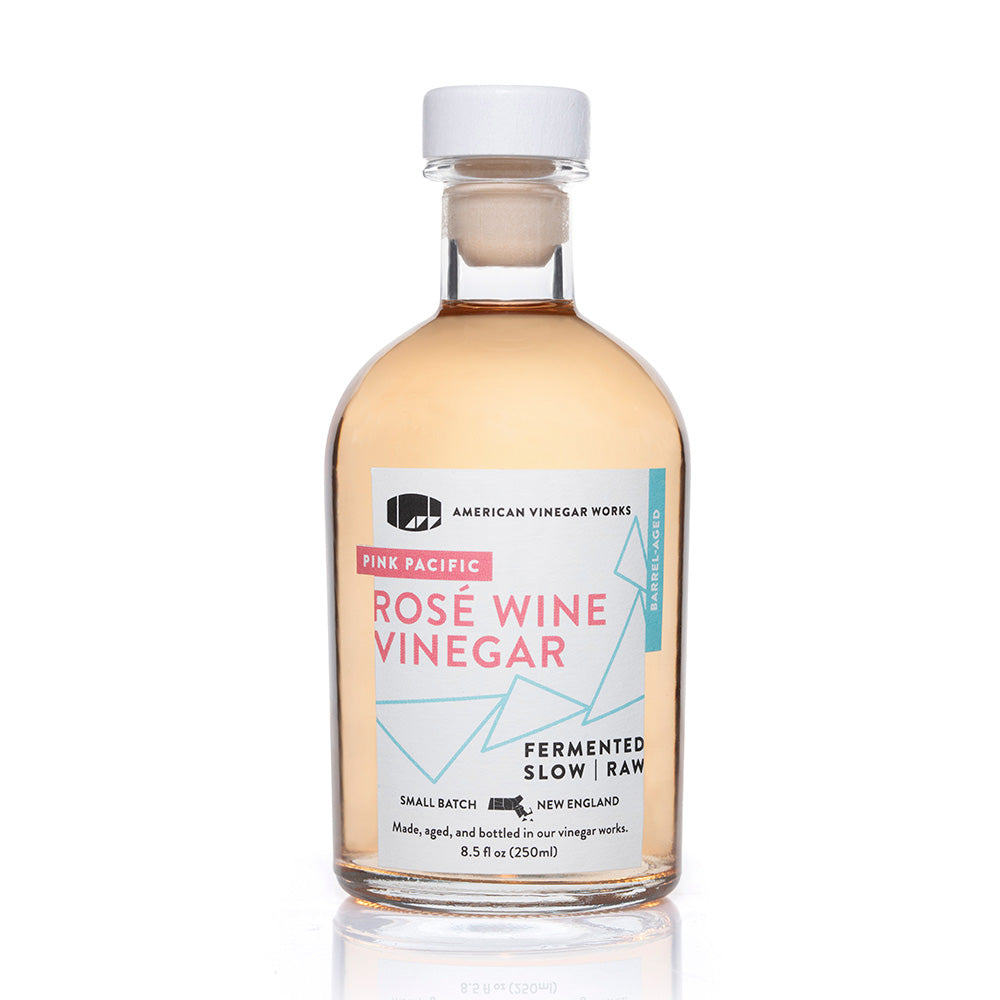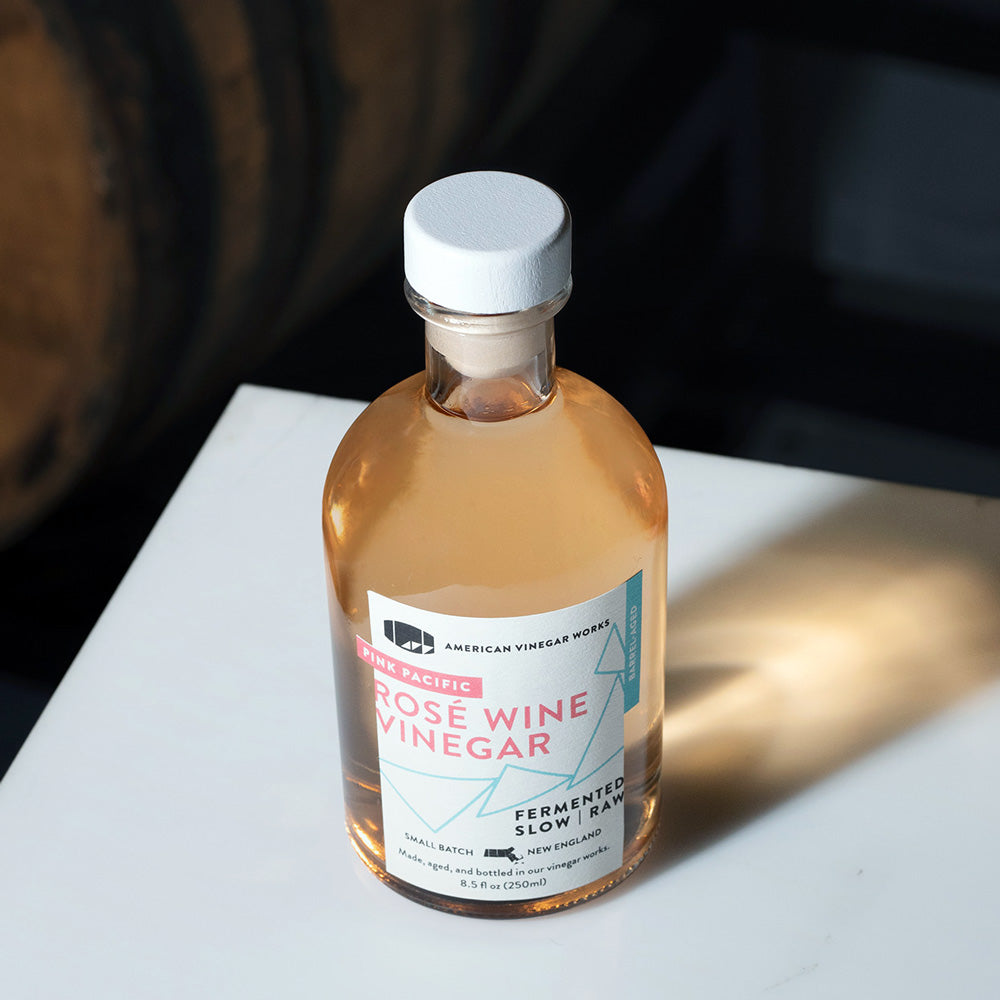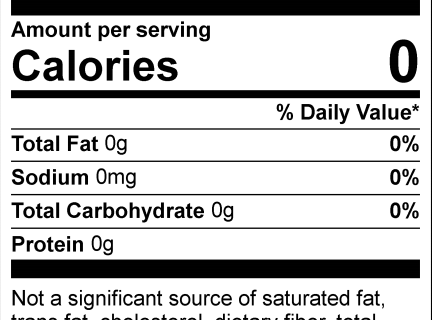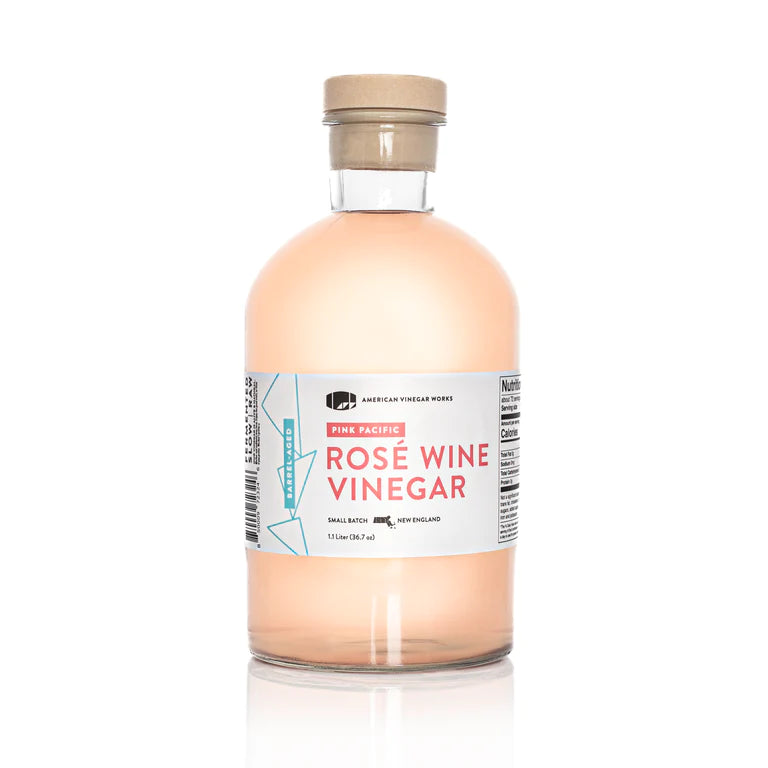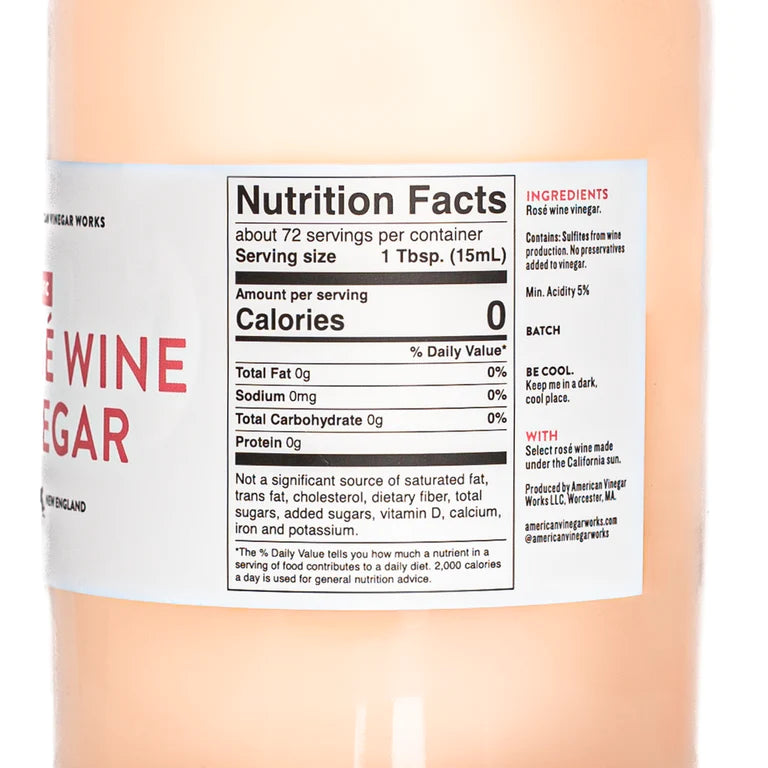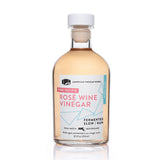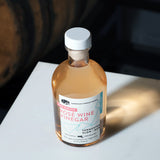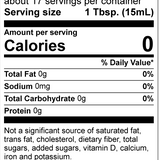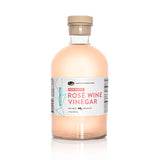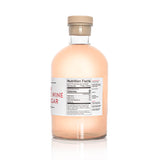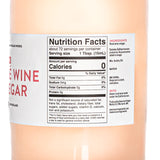 Pink Pacific Rose Wine Vinegar
---
Made with California rose wine this vinegar is bright, summery, and, frankly, beautiful. It is slow fermented in small batches using a unique process from the early 1800s and aged in 25-gallon American oak barrels. Lighter than a red wine vinegar but with more body than a white wine vinegar our Pink Pacific Rose Wine Vinegar is extremely versatile.
---
---
Choose Your Size
Free shipping on orders over $75 to the same address in the contiguous US.
Raves & Reviews
"THE MOST SURPRISING AND DELIGHTFUL VINEGARS I'VE EVER TRIED"

-

"THEIR VIBRANT COLORS ARE STRIKING"

-
---
Tell Me More
This is Rose like the grape wine not the flower, but by any (other) name it is as fantastic (though not sweet...). 
Size
8.5oz or 33.8oz glass bottle
Perfect For
Vinaigrettes, asparagus, summer salads, seafood, and martinis. 
Fermentation Base
Rose wine
Base Origin
California
Taste Profile
Bright acid with a savory fruit finish.  Summer in a bottle. 
Production Process
Slow fermented. Aged in oak barrels. 
Minimum Acidity
5%
Light and tasty excellent vinegar
Very enjoyable doesn't over whelm your choice of floods to use it with with a light fruit aftertaste that's excellent I will be using this for decades to come
Lovely
I purchased the sample pack a while ago and fell in love with the rice wine vinegar and the Rose vinegars. I sent three bottles to my sister as a thank you. She loves them, too!
Quality is evident
This vinegar is so bright and crisp and easily elevates the dish you are making. I am glad I stumbled across this product and tried on a whim. I will be reordering. Delicious!
Explosive levels of taste!
I wasn't expecting a much noticeable difference. I eat many vinegars and drink the mother in my water every day, so when i received these (so fast!) in the mail I was immediately overjoyed to see the cork seals. I prefer those. And thank you American Vinegar Works for my freebie as well! I ordered the Rose, and I'll tell you the light yet insistent flavor opens into a beautiful sensory overload to your senses when heated in food preparation. As I was dressing my Salmon, I experienced so many levels of olfactory joy, i tried it as a sipped shot and was immediately accosted with goodness and a not overpowering smell of rose. It was like a tinkling of tiny lites of rose water, while a different hot version of the bouquet was coming from the Rose Vinegar drizzled, 160* salmon, and then …you eat the salmon. Wow. So many levels of greatness here. I'm hooked and I challenge every reader to make a whole baked Salmon with NO butter. Only this and lemon as needed at table. Don't overcook it, a meal anyone can make and love. You wont regret it.
For Mothers day, I put together the vinegars in some pretty bags for my daughters. They thought the presents original and the vinegars delicious. I will order some for myself. You know, children always come first.Delicious presents